The third and final installment of the pictorial definitive stamp series was issued on August 1, 1947, consisting of a 4c value featuring the Rizal Monument and a 1p stamp with the "Colonnade of Palms" image used on the 50c value issued earlier in the year.
4c Rizal Monument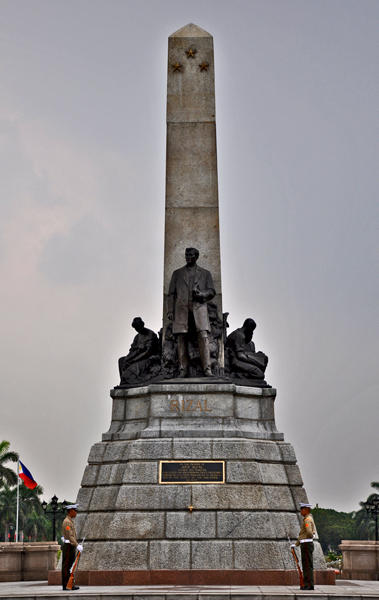 In 1901, construction of a monument to honour Jose Rizal was approved by the United States Philippine Commission. Unveiled in 1913, the Rizal Monument in Luneta Park, Manila, consists of a standing bronze sculpture of Rizal, with an obelisk as a backdrop, set on a pedestal upon which his remains are interred.
1p Colonnade of Palm Trees
The 50c stamp with the same design was discussed in an
earlier post.
First Day Cover
The 4c and 1p stamps were issued on August1, 1947, the third anniversary of
Manuel Quezon's
death.